The Headcount Advantage
Headcount Management is a US-based back office support company, created by recruiters for recruiters and staffing agencies. Our history in the business gives us the experience necessary to understand exactly what you need.
One Cohesive & Streamlined Process
When you partner with Headcount, all payroll, billing, insurance and reporting tasks are moved from your desk to ours. Once a recruiter or contract employee provides us with the information needed to set up an assignment via our online portal, we take care of the rest. You are able to focus on your business, while we focus on the details. It is really that simple.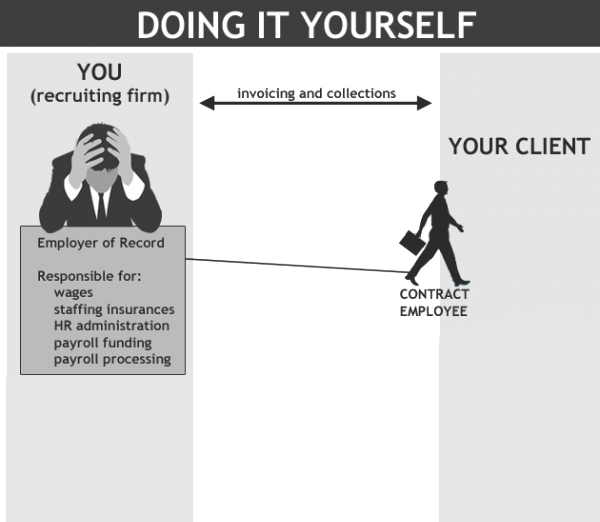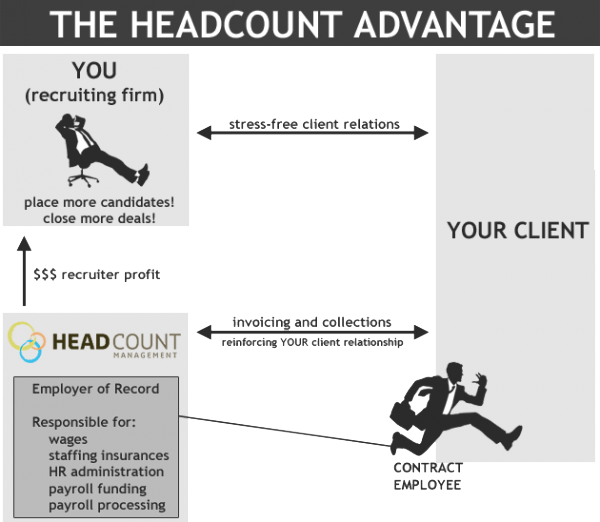 The Benefits for your Agency
Comprehensive Set of Flat Fee Bundled Services
With services created specifically for the recruiting industry, our flat fee bundled services include Employer of Record, Payroll, Back Office Support, Client Billing & Collections, Employee Benefits, Payroll Funding, Workers' Compensation and more, allowing staffing firms to recruit while streamlining their back office operations and expanding their top line growth, all while saving time and money.
Additional Income
For staffing firms, Headcount's complete set of bundled services, enables them to enter and exit the temporary and contract staffing businesses with zero capital investment. When partnering with Headcount, your firm specializes in its core competency – sourcing the best candidates for your clients – while Headcount handles all the other details.
Headcount eliminates your need to hire additional internal staff because we streamline all processes involved in these assignments. Larger firms partner with Headcount and eliminate many of the ancillary costs associated with contract staffing.
Complete Nationwide Coverage
Headcount employs workers in clerical, non-clerical, professional, industrial and healthcare related positions throughout the U.S. and Canada. With Headcount, offering your client companies the ability to expand their contract business is limitless, as you no longer need to worry about workers comp codes, funding, expanding existing insurance coverage or geographic boundaries.
Superior Client & Employee Service
Headcount ensures that you, your client and the contract employee each receives top-notch white glove customer service at every step of the process. Through accurate and detailed reports as well as knowledgeable staff handling your entire payroll and human resource needs, we take pride in knowing that we are helping to elevate the employee experience for your contract personnel.
Robust Technology Infrastructure
Headcount's customized and secure system handles every aspect of the post placement contract employee process which allows you to focus on client satisfaction and retention.
Through our secure Client Center and Employee Hub, our clients have immediate access to all daily forms, reports and important data. We pride ourselves on making financial and administrative information readily available to you in an easy and concise manner.
Security Measures
Background checks are standard procedure in today's marketplace. Headcount understands this and provides you with a full suite of background checks and drug screenings from which to pick and choose. All results are sent for review and approval before staff members begin their assignment.
Staffing & Financial Industry Expertise
Unlike other companies that service staffing and recruiting firms, Headcount Management's roots started in staffing and recruiting. Prior to founding Headcount, Mark Arrow, Headcount's CEO, led a successful recruiting and staffing firm in New York City, where he placed permanent and temporary personnel on behalf of his clients. Our team intimately understands your needs and works to empower you and your clients.